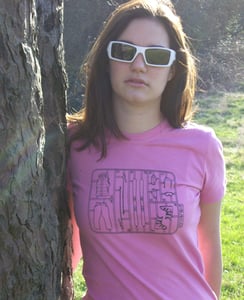 £

16.00
We like to think the Airfix design is all about how we all head to the mountains for the same reasons, we are all pretty similar, the only thing that differs is the kit we use choose to enjoy nature's finest playground.
But really it was designed by Rich and started with the sentence "You know what would be cool..."
Available in women's specific ski or snowboard design. So pick your discipline, your colour and your size.
Available in White, Blue, Pink and Aubergine.
This tee is made from 100% Organic Turkish cotton. The factory is based in Izmir, Turkey. They are a very socially responsible manufacturer and what we like most about them, apart from the usual essential social criteria such as freedom to unionise, no child labour (youngest employee is 18) etc. but they also provide transport to and from the factory and food for workers including a second meal if staff are working overtime and take all staff to the beach twice a year to have fun. If you want to know more about the factory, please get in touch. The tees are coloured using fibre reactive dyes. These are chemical dyes but they represent the best balance of colourfastness and environmental impact available. All printing is done by HUK (professionally of course!), using an entirely solvent free water-based printing process